This page serves as a archive of the product Surge, which was made and distubuted by the previous owners of this website. If you are looking to download the production, please refere to a searchengine of your choosing.
We take no credit for this product.
---
Binary is beautiful
A digital recording is just a sequence of numbers. Easily quantifiable as ones and zeros, stored on physical media, combined together into larger numbers to form a continuous stream of data.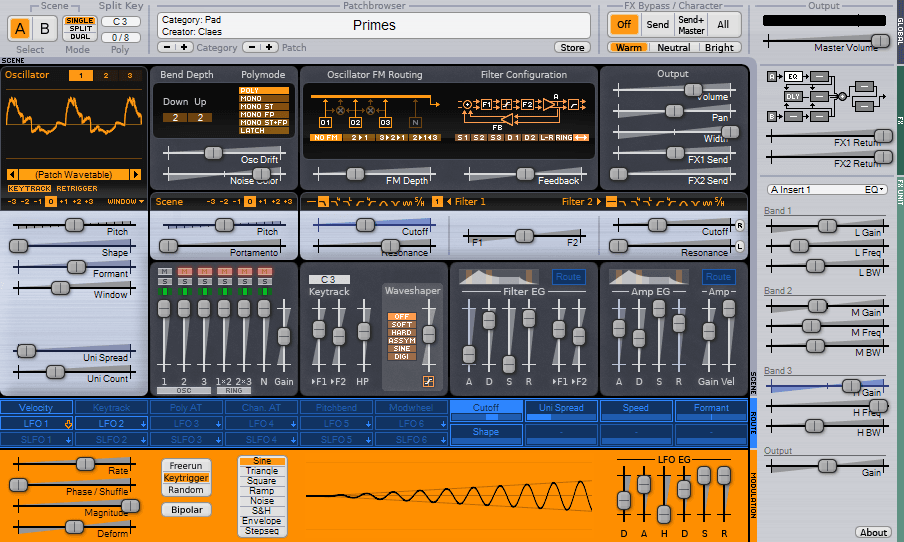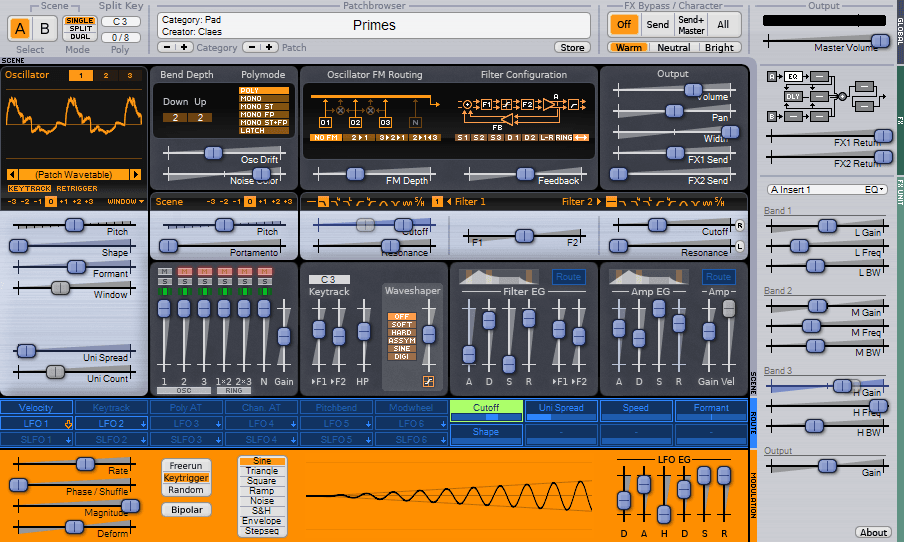 Until you listen to it. Then it becomes real.
Surge is an instrument capable of generating truly beautiful sequences of numbers. Your ears will agree with us.
More than the sum of its parts
Architecturally speaking, Surge is a rather complex synthesizer. But because of how it's put together it's still easy to learn. Once you do, you will turn the sounds in your head to audio faster than ever.
The effortless workflow, attention to detail and the sound quality can't really be appreciated without trying it yourself. We suggest you try the demo!
---
Specifications (v1.5.1a):
General
Synthesis method: Subtractive hybrid
Each patch contain two 'scenes' which are separate instances of the entire synthesis engine (except effects) that can be used for layering or split patches.
Quick category-based patch-browser
Future proof, comes as both a 32 & 64-bit VST plugin (Windows PC)
Universal Binary for both VST and AU (Mac)
Factory sounds
1010 patches
183 wavetables
Oscillators
3 oscillators/voice
8 versatile oscillator algorithms: Classic, Sine, Wavetable, Window, FM2, FM3, S/H Noise and Audio-input
The classic oscillator is a morphable pulse/saw/dualsaw oscillator with a sub-oscillator and self-sync.
The FM2/FM3 oscillators consists of a 1 carrier with 2/3 modulators and various options.
Most algorithms (except FM2, FM3, Sine and Audio-input) offer up to 16-voice unison at the oscillator level.
Oscillator FM/ringmodulation
Most oscillator algorithms (except FM2/FM3) are strictly band-limited yet still cover the entire audible spectrum, delivering a clear punchy yet clean sound.
Noise generator with variable spectrum.
Filterblock
Two filter-units with arrangeable in 8 different configurations
Feedback loop (number of variations inside the parenthesis)
Available filter-algorithms: LP12 (3), LP24 (3), LP24L (1-4 poles), HP12 (3), HP24 (3), BP (4), Notch (2), Comb (4), S&H
Filters can self-oscillate (with excitation) and respond amazingly fast to cutoff frequency changes.
Waveshaper (5 shapes)
Modulation
12 LFO-units available to each voice (6 are running on each voice and 6 are shared for the scene)
DAHDSR envelope generators on every LFO-unit
7 deformable LFO-waveforms + 1 drawable/stepsequencer waveform
LFO1 allows envelope retriggering when used as stepsequencer
Extremely fast and flexible modulation routing. Almost every continuous parameter can be modulated.
Effects
8 effect units arranged as 2 inserts/scene, 2 sends and 2 master effects
10 top-quality algorithms: Delay, Reverb, Chorus, Phaser, EQ, Distortion, Conditioner (EQ, stereo-image control & limiter), Rotary speaker, Frequency shifter, Vocoder
System Requirements (Windows PC)
A computer running Windows 2000/2003/XP (32/64-bit) or newer
The computer's CPU must support the SSE instruction set. This is supported on Intel Pentium 3/4/M, Core, Core2 and AMD Athlon XP/64/X2 (and newer) processors.
256 MB RAM
A VST-compatible Host application
An x64-compatible CPU, OS and Host is required to use the 64-bit version
System Requirements (Mac)
Requires Mac OS X v.10.3.9 or later.
Any Intel Mac or a PowerPC Mac with a 1GHz G4/G5 or faster CPU
256 MB RAM
An AU or VST2.4-compatible Host application
Press reviews
"A new star is born"
Score: 5.5/6
Beat 07/2006 (Germany)
"Surge har precis det vi letar efter i en mjukvarusynt – den har bra ljud, är lättrattad, stabil och sa vi förresten att den låter bra?"
Score: 9/10
Studio 01/2006 (IDG, Sweden)
Score: 8/10
Computer Music CM96 2006 (UK)